Green Coffee
Take advantage of today's promotion and save more than $300 in addition to FREE SHIPPING. With our 30 Day 100% Money Back Guarantee you can rest easy assured that if you're not 100% satisfied for any reason you can always return it refund.
**Promotion Prices Valid Only On: 
6 Month Program
Buy 3 Get 3 Free!!
Buy 3 Get 3 Free!!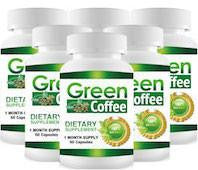 Save 82%
Sale Price:$74.99
Best Selling Package
*100% Money Back Guarantee
3 Month Program
Buy 2 Get 1 Free!!
Buy 2 Get 1 Free!!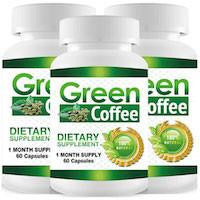 Save 72%
Sale Price:$49.99
Value Package
*100% Money Back Guarantee
1 Month Program
1 Green Coffee
1 Green Coffee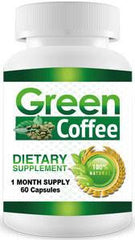 Save 64%
Sale Price:$24.99
Sampler Package
*100% Money Back Guarantee
Lose Weight Quickly and Safely with

"The Magic Weight Loss Cure For Every Body Type"

The Green Coffee Extract was recently featured all over TV and is gaining widespread notoriety as an effective weight loss solution. In addition to its diet effectiveness it also can provide these health benefits:

Boosts Metabolism Rate
Reduces Blood Pressure
Blocks Fat Formulation and Absorption
Powerful Antioxidant
Regulates Blood Sugar Levels
Burns And Melts Away Fat

 

---

What Makes Green Coffee Such An Effective Diet Supplement?

Although it has long been assumed that caffeine is the main energizing, fat-burning ingredient in green coffee, new research has shown that it is actually the Chlorogenic Acid.  This rare compound is found only in the unroasted (or "green") coffee bean because it is largely destroyed during the roasting process that turns the bean darker and ready for consumption. This is such a powerful weight loss ingredient because it has DUAL EFFECT not found in any other diet product.

1) STOPS OUR BODY FROM STORING FAT and

2) HELPS OUR BODY BURN FAT AT THE SAME TIME.

Green Coffee Bean Extract, with its high amounts of Chlorogenic Acid, is the ultimate tool to help you lose weight. It inhibits glucose release into the body, stopping the creation of more body fat. It also boost's the liver's fat burning metabolism, which means that more fat is pumped out of the body, so less of it is stored as body fat.

Dr Guidelines For Choosing A Green Coffee Extract

Must contain at least 45% Chlorogenic Acid and be on the label (Ours contains 50%)
Must have no fillers, binders or any other extra ingredients
Must contain at least 1200MG/day of green coffee extract (Ours contains 1600MG)
Must be 100% pure and in a vegetarian capsule

 

Be careful to ensure that the product you're buying is not promoted using unsupported facts or is not subject to false claims.  The easiest and fastest way to verify this is the read the label to make sure it meets all of these criteria. If it doesn't, don't buy it!

With Our Green Coffee Extract you can rest assured that you are getting a product that meets and exceeds this strict criteria.

---

What Makes Our Green Coffee #1?

30 Day, NO QUESTIONS ASKED, Money Back Guarantee
Fast 'N Free Shipping On All Orders
100% Pure Green Coffee Bean Extract (No Binders or Fillers)
Contains the recommended daily extract dose of 1600mg (800mg/capsule twice a day)
Made with GCA, the potent green coffee extract recommended by Drs and used in clinical studies
All Products are made in The US in an FDA Certified and GMP Compliant Facility
No Auto Billing or Shipping. You will be billed one time when you purchase and that's it.
Contains the Maximum Recommended 50% Chlorogenic Acid

Green Coffee - Daily Dosage

As a dietary supplement, it is recommended to take one capsule 2 times daily, 30 minutes before meals, with an 8 oz. glass of water. That gives you the recommended 1600mg per day of green coffee extract while also spreading it out so it is metabolized more slowly and will have effects over the full 24 hours per day.
---
More from this collection