Garcinia Cambogia
Take advantage of today's promotion and save more than $300 in addition to FREE SHIPPING. With our 30 Day 100% Money Back Guarantee you can rest easy assured that if you're not 100% satisfied for any reason you can always return it refund.
**Promotion Prices Valid Only On: 
6 Month Program
Buy 3 Get 3 Free!!
Buy 3 Get 3 Free!!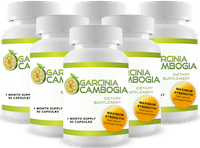 Save 76%
Sale Price:$99.99
Best Selling Package
*100% Money Back Guarantee
3 Month Program
Buy 2 Get 1 Free!!
Buy 2 Get 1 Free!!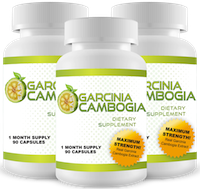 Save 66%
Sale Price:$69.99
Moderate Package
*100% Money Back Guarantee
1 Month Program
1 Garcinia Cambogia
1 Garcinia Cambogia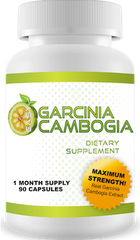 Save 42%
Sale Price:$39.99
Sampler Package
*100% Money Back Guarantee
Garcinia Cambogia promotes weight loss and a healthier lifestyle without the time-requirements and hassle of other weight loss plans and programs. This "Dual-Action Fat Buster" is recommended by renowned physicians and doctors worldwide. In addition to its fat busting capabilities it can also provide these benefits:

Burns Fat While Retaining Muscle*
Regulates Blood Sugar Levels*
Reduces Fat Absorption*
Increased Serotonin Improves Sleep and Mood*
Energy Booster*
Controls Cravings for Fatty And Greasy Foods*
Natural Appetite Suppressant*
No Harmful Stimulants or Side Effects*

Garcinia Cambogia - Daily Dosage

As a dietary supplement, it is recommended to take one capsule 2 times daily, 30 minutes before meals, with an 8 oz. glass of water. That gives you the recommended 1500mg per day of garcinia cambogia extract while also spreading it out so it is metabolized more slowly and will have effects over the full 24 hours per day.

Click On Any Question Below To View Its Answer

Are there any negative side effects?

Our Garcinia Cambogia uses only the highest quality extract with no added fillers or binders. The garcinia cambogia plant and its fruit have been eaten safely for years. Although every person is different, our extract has been found to produce very minimal, if any side effects. In fact, most people report just the opposite, experiencing positive effects like an increase in energy, sharper mental focus and more endurance during their workouts.

However, it is not recommended to take this supplement if you are pregnant or breastfeeding. However we recommend that you consult with your primary care physician if you are currently taking any medications to be on the safe side.

Where is Your Garcinia Cambogia made?

Garcinia Cambogia is produced and bottles in the United States in a state-of-the-art FDA Registered lab. We also adhere to the strict guidelines of the US cGMP certification.

When will the extract be shipped out and how long does it take to arrive?

All orders will be mailed out within 1 business day of the time the order was made. For domestic orders we offer next day, priority (2-3 days), and standard shipping options (3-6 days). Orders to Canada will arrive in 2-8 business days from the time the order was placed, based off of shipping method selected at checkout.

International orders are sent via United Parcel Service (UPS) or United States Post Office (USPS). Shipments usually arrive to your country within 2 week, but can take up to 6 week for delivery because of customs clearance delays.

Can I take this supplement if have diabetes and high cholesterol?

Garcinia can lower blood your sugar levels so caution is advised when mixing it with other medications that are also meant to lower your blood sugar level. If you are taking medication for diabetes such as glyburide or insulin, garcinia could cause your blood sugar levels to fall even further therefore it is recommended that speak with your physician before trying this supplement.

Although garcinia cambogia has been shown to help lower blood cholesterol levels, if you take any cholesterol lowering drugs such as statin, caution is also recommended as well since garcinia could increase the risks of harmful side effects such as or muscle degradation or rhabdomyolysis. If you have any doubts about the medications you are taking we suggest you consult with your physician to be on the safe side.

Can I take garcinia cambogia if I have high blood pressure or am taking thyroids medication?

Garcinia Cambogia is not a stimulant and does not contain any caffeine. There is no evidence that suggests that HCA or garcinia can cause high blood pressure. This means that adding this supplement to a weight loss plan wouldn't pose a danger of raising your blood pressure.

The garcinia cambogia extract also doesn't have any known dangerous interactions with blood pressure or thyroid medication. However, it is always recommended to consult with your doctor if you are taking any medications to be on the safe side.

What are the ingredients in Garcinia Cambogia?

Active Ingredients: Garcinia Cambogia Extract with 80% HCA - 1500mg**
Inactive Ingridients: 100% Veggie Capsules

Is there caffeine in your Garcinia Cambogia?

No, this is an all natural garcinia cambogia extract and does not contain any caffeine or stimulants.